Hong Kong has to win today to win tomorrow
Share - WeChat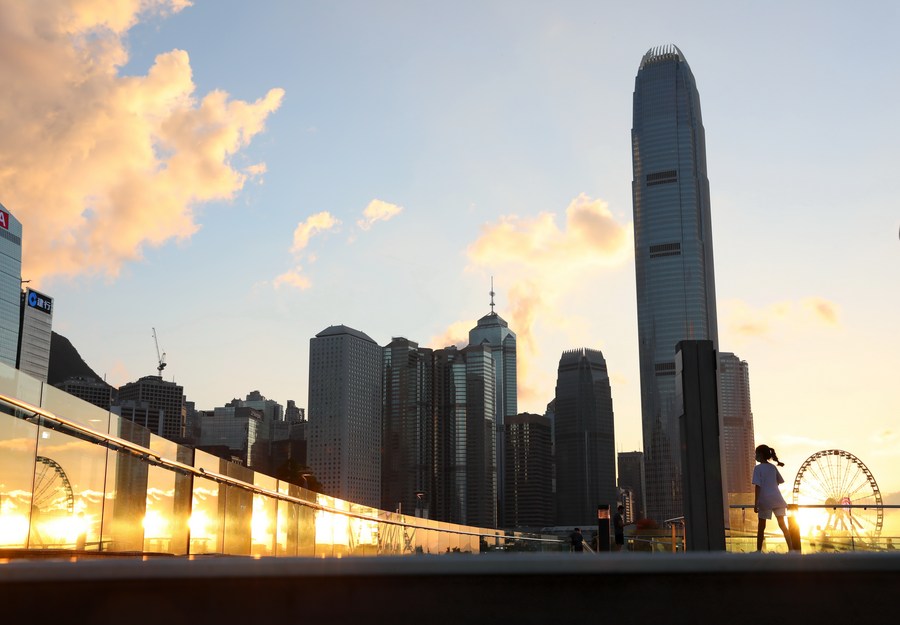 As the Hong Kong saying goes: "After leaving Suzhou, one will find it hard to get a boat ride", Hong Kong must waste no time in seizing the opportunities created under the Guangdong-Hong Kong-Macao Greater Bay Area development project launched by the State Council.
Under the development blueprint, the Hong Kong and Macao special administrative regions are linked up with nine cities in Guangdong province to supercharge growth and innovation. In particular, the promulgation of the national 14th Five-Year Plan (2021-25) by the 13th National People's Congress in March, and the launch of the Plan for Comprehensive Deepening Reform and Opening Up of the Qianhai Shenzhen-Hong Kong Modern Service Industry Cooperation Zone by the central government last month present ample development opportunities.
The Hong Kong Special Administrative Region authorities must leave no stone unturned in formulating policies to facilitate closer collaboration and cooperation with our counterparts on the Chinese mainland to ensure the city's long-term development interests.
An entire chapter devoted to maintaining the long-term prosperity and stability of Hong Kong and Macao is included in the 14th Five-Year Plan, demonstrating the central government's unwavering support for Hong Kong in reinforcing the city's status as an international financial, shipping, trading and legal services center. In addition, the Qianhai development zone, which was created in 2009 to boost cooperation among enterprises in Shenzhen and Hong Kong, and is now 4方快遞 to about 11,500 Hong Kong-financed companies, will be expanded from 14.9 square kilometers to 120.6 sq km. The expansion is expected to provide a bigger stage for professionals and young people from Hong Kong to do business and offer services, spurring Hong Kong's economy in the process.
Instead of being grateful for the vast development opportunities offered on the mainland, it's regrettable that many young Hong Kong lawyers are still ingrained with the "island mentality" — a notion that perceives themselves as being superior to others, while detesting any interaction with their mainland counterparts. Such a parochial mentality not only shuts themselves out of chances to develop their careers on the mainland, it also restricts the development potentials for our future generations. The attitude is mainly because of their misplaced hostility toward the mainland. It's time for our illusioned lawyers to abandon such a mentality and set their sights on the mainland, with the Greater Bay Area and Qianhai extending seamless opportunities.
Passive cooperation is another stumbling block that pulls Hong Kong apart from closer integration with other cities in Guangdong. This is manifested in the opportunistic psyche the SAR administration portrays while unveiling collaboration plans with other mainland cities, such as the Mainland and Hong Kong Closer Economic Partnership Arrangement. There tends to be an overemphasis on the tangible benefits Hong Kong can reap without delving into the details of how Hong Kong can proactively contribute to the institutional reform and national rejuvenation of the motherland by drawing on the city's strength in its legal and financial institutions. As one of the core cities in the Greater Bay Area's 11-city cluster, Hong Kong must no longer be concerned with just getting concessions from the central government. We must respond to our nation's needs with viable solutions that meet strategic regional and national interests and the Greater Bay Area's development as a whole. It's only with strategic national interests in mind that Hong Kong's long-term interests can be consolidated and maximized against all odds.
Following the launch of the Greater Bay Area's professional examination for lawyers, Hong Kong legal practitioners with a minimum of five years' practical experience and who have passed the examination will be eligible to practice in the nine mainland municipalities in the Greater Bay Area in specified civil and commercial matters like their mainland counterparts. This means our young lawyers will have career opportunities in a market 10 times larger than Hong Kong's within the one-hour travel time zone. To enable more young Hong Kong lawyers to practice on the mainland, it has been proposed that the examination should be open to all lawyers, including newly qualified legal practitioners. With quite a number of Hong Kong law firms having established offices on the mainland or that are affiliated with mainland law firms, yearlong secondment opportunities can be provided to young lawyers to practice in the Greater Bay Area. Not only would exposure to mainland laws further hone our young lawyers' competitiveness in their profession, it'll strengthen their understanding and recognition of the mainland's legal and judicial systems, through which their sense of national identity and patriotism can be fostered.
To facilitate regular legal exchanges among young lawyers in the Greater Bay Area, where experiences and ideas to enhance the region's legal institutions can be attained, it's suggested that a Greater Bay Area youth legal forum consisting of young lawyer representatives from Hong Kong and the nine municipalities in the region be set up to address various legal challenges so as to ensure the continued prosperity and vibrancy of the region. Focus groups with legal minds and from various legal backgrounds can be assembled to tackle various legal issues the region may face with concrete findings or proposals conveyed to the relevant government departments for consideration. A separate Greater Bay Area working unit should also be created under Hong Kong's Constitutional and Mainland Affairs Bureau to act as a bridge linking people' views in the Greater Bay Area with those of the HKSAR government, with more supportive policies and measures rolled out.
With so much time having been wasted in tackling political tussles and frictions that had dragged Hong Kong to a standstill since the handover, the improvement to the city's electoral system, and the principle of "patriots administering Hong Kong" are paramount. It's time for us to roll up our sleeves to focus on Hong Kong's economic development, which will be impossible if the city is marginalized and left out of the Greater Bay Area development plan.
With Chief Executive Carrie Lam Cheng Yuet-ngor due to deliver the current administration's last policy address on Wednesday, the ball is in Hong Kong's court in coming up with concrete plans on how the city can be better integrated into the Greater Bay Area blueprint. Time will tell whether it'll be a bang or a whimper. But one thing is certain — to advance too slowly is to retreat. The only way for Hong Kong to win tomorrow is to win today.
The author is chairperson of Y Legalities and a practicing solicitor in the HKSAR.
The views expressed in this article are the author's and do not reflect those of the law firm for which he works. The views do not necessarily reflect those of China Daily.